Living Well with COPD for Pulmonary Rehabilitation
The Living Well with COPD for Pulmonary Rehabilitation Programme in the United Kingdom was developed by the University of Ulster, and Belfast Health and Social Care Trust in collaboration with the team in McGill University Health Centre
Adaptation and Development of Living Well with COPD for pulmonary rehabilitation programmes
The Living Well with COPD for pulmonary rehabilitation programme in the United Kingdom is an adaptation from the Canadian version to enable delivery of education to patients during pulmonary rehabilitation. The education sessions were developed and adapted based on information from focus groups of patients with COPD and health professionals, international guidelines and relevant literature in the field.
The development and evaluation of this adaptation followed a rigorous process, which has been detailed in a range of publications (see here and here). The programme has been endorsed by the Association of Chartered Physiotherapists in Respiratory Care (ACPRC) and the Northern Ireland Regional Respiratory Forum and the programme was highly commended in the British Thoracic Society Innovation in Delivery of Respiratory Education Award 2012.
Sources of funding for the development and evaluation of this adaptation include the University of Ulster, the HSC Research and Development division of the Public Health Agency, the Department of Employment and Learning, and the Belfast Health and Social Care Trust.
The Living Well with COPD for Pulmonary Rehabilitation Programme assists with the delivery of the education component of pulmonary rehabilitation. The full programme consists of 10 education sessions (6 key sessions plus 4 optional sessions) which are important for inclusion in the context of pulmonary rehabilitation. Delivery usually takes 30-45 minutes per session (optional sessions are shorter). The programme includes materials for both health professionals and patients. The sessions are delivered using a variety of interactive methods including group discussions and practical demonstrations.
Programme Materials
The Living Well with COPD for Pulmonary Rehabilitation Programme includes specific educational materials for people with COPD attending pulmonary rehabilitation. All these materials can be downloaded from this website if you have an account. Please log in to the secured section and go to "Documentation and Tools", United Kingdom.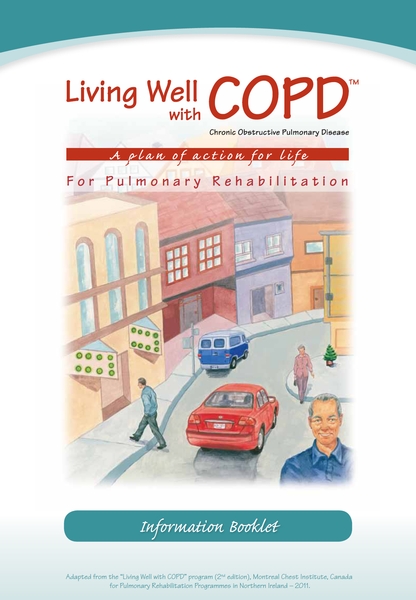 Materials for Patients (usually provided to patients by their health professional throughout the pulmonary rehabilitation programme)
Patient booklet: This patient booklet provides the information covered during the education sessions.  It is a printed resource for the patients to keep. 
Action Plan: The individualised Action Plan guides patients in recognising and managing an exacerbation (worsening of symptoms or "flare up").
Key message sheets: There are 9 key "take-home" messages and these are summarised at the end of each education session.
Materials for Health Professionals (to guide and support educational interventions)
Introductory Guide: This is a "Background resource" that covers the goals and theory of the programme, and of delivering education to adults and dealing with group dynamics.
Health Professional Manuals: These 10 manuals provide the health professionals with a script and step-by-step guide through the delivery of each group education session.
Session 1: Management of Breathlessness
Session 2: Energy Conservation
Session 3: Overview of the Action Plan and Management of an Exacerbation
Session 4: COPD Medication and appropriate use of Inhalation Devices
Session 5: Management of Stress, Anxiety and Depression
Session 6: Continuing Exercise and Self-Management Strategies (including welfare and benefits)
     Optional additional sessions:
Session : Airway Clearance
Session : Healthy Eating
Session : Long-Term Oxygen Therapy
Session : Smoking Cessation
Posters: There are 32 posters which act as visual cues and support the information delivered during each group session.
Cue cards: There are seven cue cards which are displayed during the group exercise sessions. These translate some of the key messages covered during the education sessions into the exercise class.  
Authors of this adaptation:

For the University of Ulster and Belfast Health and Social Care Trust, Belfast, Northern Ireland
-        Brenda O'Neill, PhD, BSc, MCSP
-        Denise Cosgrove, PhD, BSc, MCSP
-        Joseph MacMahon, FRCP
-        Judy M. Bradley, PhD, BSc, MCSP

For the McGill University Health Centre, Montreal, Canada
-        Michel Lebel, RN, BSc
-        Maria Sedeno, BEng, MM
-        Jean Bourbeau, MD, MSc, FRCPC